REMEMBER ABOUT 12 YEARS AGO WHEN THE ONLY WAY TO REALLY SMASH DOWN A MOUNTAIN BIKE TRAIL WAS ON A DOWNHILL BIKE? CLIMBABLE ENDURO BIKES DIDN'T QUITE EXIST YET SO WE RELIED ON TAILGATES AND ROOF RACKS TO GET TO THE TOP. IT WAS AN AMAZING TIME. MTB AS A SPORT WAS FINALLY DITCHING GRANDFATHERED STANDARDS AND EVOLVING IN THE DIRECTION WE WANTED IT TO GO: DOWN. IT WAS SHUTTLE LAPS ALL DAY LONG. THERE WAS JUST ONE PROBLEM. THEY WERE, WELL… SHUTTLE LAPS.
ENTER THE DRIVE MT. OUR MOST GRAVITY ORIENTED BIKE THUS FAR… WITH AN ELECTRIC MOTOR... THE PEDAL-ASSIST SHIMANO EP8 AND A 504W LI BATTERY, TO BE MORE SPECIFIC. SHUTTLE PROBLEM = SOLVED. BUT LET'S BE CLEAR, WE DIDN'T JUST MOVE A FEW THINGS AROUND TO FIT A MOTOR ONTO AN EXISTING DESIGN. THE DRIVE INTRODUCES OUR NEW PROGRESSIVE HIGH PIVOT FULL-SUSPENSION AFS WITH 160MM OF REAR WHEEL TRAVEL AND 170MM UP FRONT; TRACTION ON A WHOLE NEW LEVEL. THE REARWARD AXLE PATH SILENCES SQUARE EDGE HITS IN A WAY THAT SIMPLY HAS TO BE EXPERIENCED TO APPRECIATE. THE DRIVE MT IS AN ELECTRIC ENDURO BIKE THAT ALSO THE MOST CONSISTENT AND PROGRESSIVE SPRING RATE WE'VE BROUGHT TO MARKET (YEP, YOU CAN RUN A COIL IF YOU WANT).  
WELCOME BACK TO THE ERA OF SHUTTLING; THIS TIME WITH NO ODD MAN OUT, NO GAS MONEY, NO WAITING, JUST LAPS ON LAPS ON LAPS ON LAPS ON…
Drive MT Comp
MSRP: $9,099.00 Sale: $5,459.40
170MM Front / 160MM Rear
Shimano SLX/Deore Drivetrain
Marzocchi Z1 Fork & Fox Performance Float X Shock
TRP Slate T4 Brakes
Sun Ringle Duroc SD37 Expert Aluminum Wheels
SHOP BIKE
Drive MT Advanced
MSRP: $10,399.00 Sale: $6,239.40
170MM Front / 160MM Rear
Shimano XT Drivetrain
Fox Performance Elite 38 Fork & Float X Shock
TRP Trail EVO Brakes
Sun Ringle Duroc SD37 Pro Aluminum Wheels
SHOP BIKE
Drive MT Pro
MSRP: $12,599.00 Sale: $7,559.40
170MM Front / 160MM Rear
Shimano XTR Drivetrain
Fox Factory 38 Fork & Float X2 Shock
TRP DHR EVO Brakes
Crankbrothers Enduro Carbon Wheels with I9 hubs
Maxxis Assegai & DHRII Tires
SHOP BIKE
"What stood out was just how much the Eminent Drive liked to goof off on the trail." Travis Engel
"The Eminent Drive MT packs all the essentials for fun e-enduro riding into a package that's not overly heavy, and has sensible geometry, intuitive handling, and futuristic looks." Alicia Leggett
HIGH PIVOT AFS
15mm of REARWARD AXLE PATH. The way we see it, this is the way forward in mid to long travel mountain bike segments. By "forward" we mean that once you ride it you immediately notice the lack of hang up and hold back deflection. The bike just wants to reset and move onto more chunk. You might think this is only a descending benefit, but it also positively impacts traction on the climbs, especially in loose, technical up and over situations, where required weight shifting can result in a spun out rear. Because the wheel moves with the bump, traction remains more constant. Lastly, the new design still delivers a solid 120% anti-squat platform to mash on.
ELIMINATION OF BRAKE BRACKET
Thanks to the high pivot configuration, the dropout no longer counter rotates as it goes through travel. The new dropout plate effectively becomes the floating bracket, keeping the rotor clocked to the same spot on the caliper throughout travel and delivering fully active braking with 30% anti-rise at sag. With the brake bracket out of the way there is room to accommodate a 203 diameter rotor for increased stopping power. The video illustrates that in both Eminent designs the rotor stays clocked to the caliper throughout suspension travel.
PROGRESSIVE LINKAGE
The graph says it all. Dead linear, 30% progressivity or in other words a virtually straight diagonal line as the bike moves through travel. But what does it all mean? Because it it linear, there is better midstroke support which equates to less "wallow". As it moves deeper into travel the shock provides increasing bottom out resistance. All of this allows for a lighter shock compression tune (great for coil), resulting in a more supple and supportive ride. This is achieved in part by the placement of pivots, but also by the addition of the lower shock linkage, which works in concert with the upper pivot to achieve the desired leverage ratio
SHIMANO EP8 MOTOR & CUSTOM 504W BATTERY
The EP8 is the smallest and lightest in class motor, generating 85 Nm of torque and commanded by Shimamo's clean and cleverly intergrated display interface. Power delivery is further customized via the E-Tube phone app. Weight, strength, and keeping the appearance svelte were a major design priority. Thanks to a custom 504W battery, accessed via the motor, the Drive has one of the slimmest down tube/motor areas in the industry. Keeping things tight also helps to keep the weight down. The Drive comes in at 48 pounds in its heaviest spec and only gets lighter as you move up in the line.
CONTINUOUS SEAT TUBE
With the elimination of the previous design shock tunnel, the new design provides a massive uninterrupted 308mm (L & XL) and 288 (M) seat post insertion. The standard of long 34.9mm diameter droppers are good to go. Speaking of clearance, we've lowered the stand over by an inch as well. Lastly, we've steepened up the STA to 76.2° (MT) and 77° (LT).
HALF DEGREE FLIP CHIP
Integrated at the upper shock bolt for easy access and quick adjustment, the flip chip will allow for a half degree of adjustability: 63.5/64 (MT), 64.5/65 (LT).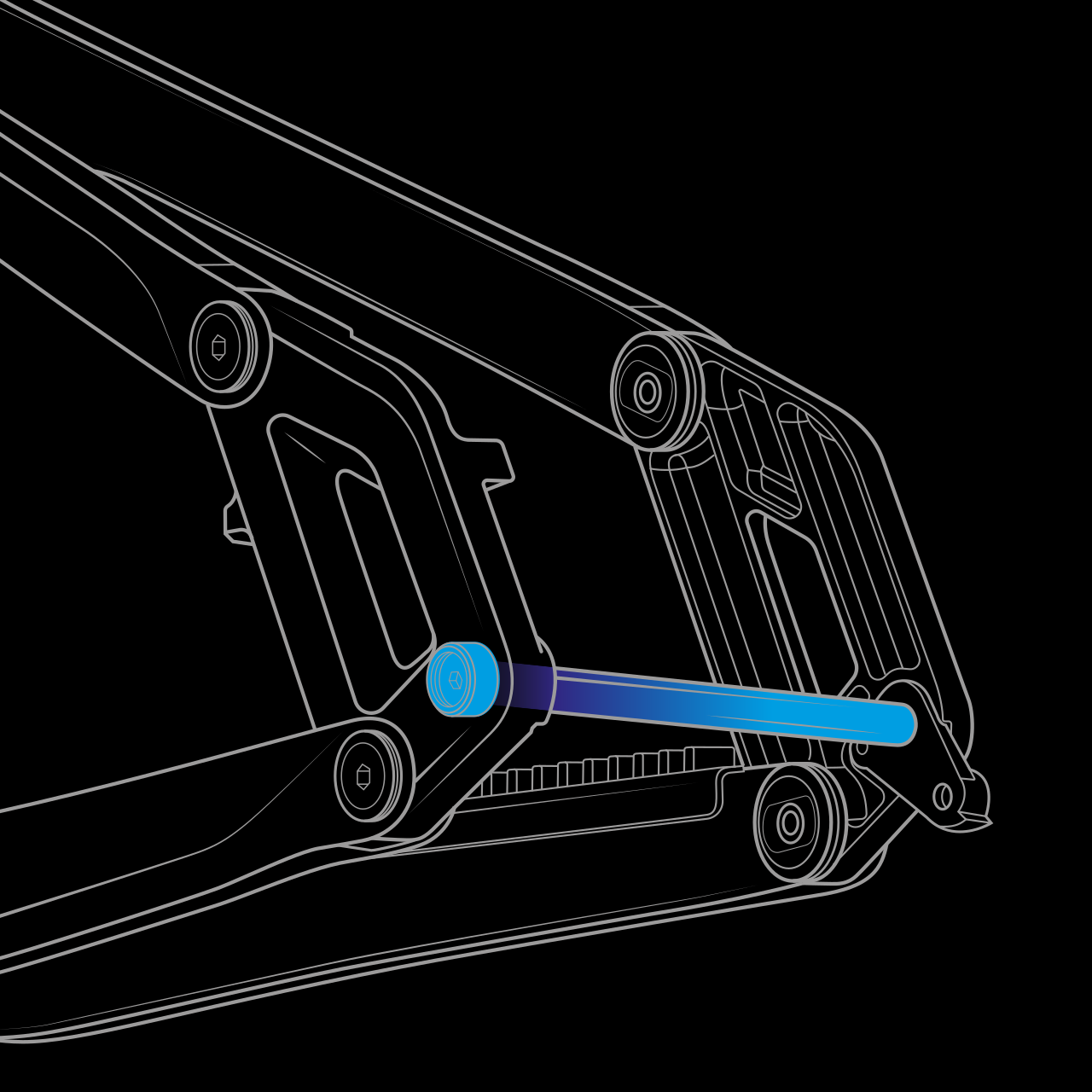 SUPER BOOST & KEYED AXLE
Vital MTB called the AFS rear end on our last bike, "exceptionally stiff", but when it comes to lateral stiffness, you can't have too much. So we looked at where we could improve it further. The first step was moving to Superboost 157 hub spacing, which it gets a stronger & stiffer wheel. But that wasn't enough. The real improvements are The new dropout design which also integrates a unique keyed rear axle that locks the two dropout plates together, increasing torsional stiffness in high stress circumstances.