Our Dealer Network is GROWING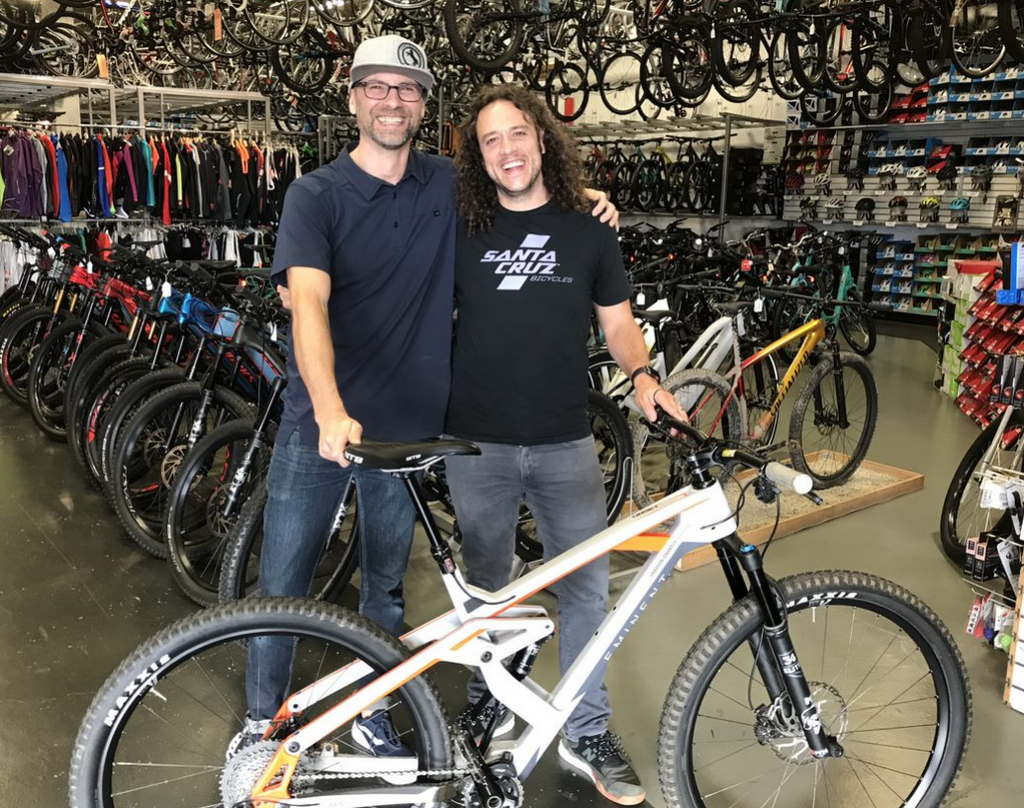 Yes, we'll admit it, it's been a bit since our last blog.  We've had our heads down trying to keep up with the demand and move bikes out to owners/shops as fast as we can get them here.   We won't bore you with the "supply chain issues" banter.  Instead we want to highlight and recognize our growing dealer network.  Anthony and our rep team has been working hard to bring the brand into the best local bike shops in the country and we want to thank and recognize all our dealers, new and old for being a part of the "Eminent Family".   It's worth noting that we always strive to kick of the brand at a new shop with a demo event.  The last year has made that difficult, but with life finally getting back to normal and snow melting we are now playing catch up on dealer demo launches.  Keep an eye on social media for one in your area this summer.  
It literally feels like we are bringing on a new dealer every week so if there isn't one listed below in your neck of the woods, it probably won't be long.  If you can't wait and know a dealer that could use Eminent on their floor have them hit us up at info@eminentcycles.com !
Here they are, in alphabetical order.  You can also find our most recent /up to date list and contact/address info by going here...
ARIZONA:
ARCHER'S BIKES - MESA
ARCHER'S BIKES - PRESCOTT
DYNAMITE BIKE LAB - SCOTTSDALE
SUNSET CYCLERY - PHOENIX
TUCSON ENDURANCE PERFORMANCE CENTER - TUCSON
CALIFORNIA:
SKYPARK BIKE PARK - SKYFOREST
JENSON USA - ONLINE AND RIVERSIDE CA
DEMOWORX - (MOBILE) SERVING BAY AREA AND SACRAMENTO AREA
COLORADO
GNARLY B'S - COLORADO SPRINGS
BASE CAMP CYCLERY - DENVER
BLACK BURRO BIKES - BUENA VISTA
COLORADO E-BIKE - EVERGREEN
CONNECTICUT
CUTTING EDGE - BERLIN
CFM CYCLES - COVENTRY
ILLINOIS
SPOKES BIKES - WHEATON
WHEEL & SPROCKET - EVANSTON
WHEEL & SPROCKET - OAK PARK
MASSACHUSETTS
FAST SPLITS - NEEDHAM
BIKE ZONE - HYANNIS
MISSOURI
TAKE A HIKE SHOP - ST CHARLES
NEW HAMPSHIRE
CHAIN LINE - LACONIA
NEW MEXICO
SANDSTONE CYCLES - BLOOMFIELD
ZIA BIKE AND BOARD - CARLSBAD
NEW YORK
FREE WHEEL BICYCLE SHOP -  (MOBILE) SERVING WEST SENECA
RHODE ISLAND
BLACKSTONE BICYCLES - CUMBERLAND
NBX BIKES - NARRAGANSETT
VERMONT
BASE CAMP OUTFITTERS - KILLINGTON
RUTLAND CITY BIKES - RUTLAND
WISCONSIN
BROKEN SPOKE BICYCLE STUDIO - GREENBAY
WHEEL & SPROCKET - APPLETON, WI
WHEEL & SPROCKET - BROOKFIELD, WI
WHEEL & SPROCKET - BAY VIEW, WI
WHEEL & SPROCKET - DELAFIELD, WI
WHEEL & SPROCKET - FRANKLIN, WI
WHEEL & SPROCKET - FOX POINT, WI
WHEEL & SPROCKET - MIDDLETON, WI
WHEEL & SPROCKET - OSHKOSH, WI
INTERNATIONAL DEALERS
BIKE LAB - QUITO, ECUADOR
MX GARBONZO - PUEBLA, MEXICO 
Leave a Reply